Not only can we book your Las Vegas Wedding, we can book your travel arrangements and sightseeing tours as well. Call us the One stop shop, we book it all and take the stress away from you and what better way to see Las Vegas then by a Helicopter tour. Now we don't want to weigh you down with hundreds of options, but we know the top 2 tours because its our speciality to know. Here they are and all you need to do is give us your date and we'll take you to the skies.
SUNSET DREAM || USD $259 pp
Duration 2.5 hours
Departs from Las Vegas terminal
Includes Free transport by limousine from your hotel to the helipad and back to the hotel or a Las Vegas Location within 5 miles of the strip
Get ready to witness the Best-of-the-West as your excursion begins with a journey past Lake Las Vegas, an exclusive golf resort consisting of numerous celebrity homes and hotels. Next, visit Lake Mead to see one of the largest man-made lakes in the world.
Get your camera ready for a once-in-a-lifetime view of the Hoover Dam from above this national landmark. Conclude your air-only excursion with intimate, sunset views of the Strip's mega resorts and hotels including iconic landmarks such as the Bellagio, Caesars Palace, Stratosphere Tower, Luxor, Eiffel Tower and historic downtown.
LAS VEGAS LIGHTS || USD $125PP
Duration 15 minutes
Departs from Las Vegas terminal
Includes Free transport by limousine from your hotel to the helipad and back to the hotel or a Las Vegas Location within 5 miles of the strip
Enjoy the "Entertainment Capital of the World" from the best view possible – the sky.
Vegas Nights is an amazing tour flying over the megaresorts of the Las Vegas Strip from the New York-New York skyline to the Bellagio fountains and the never-fading light of the Luxor pyramid. You are also afforded unparalleled views of Downtown Las Vegas' historic Fremont Street, home to the city's first casinos.
+ Prior to your departure from our Las Vegas terminal, you will be served champagne. Then, you will experience breathtaking sights from inside our ECO-Star helicopter, the limousine of the sky.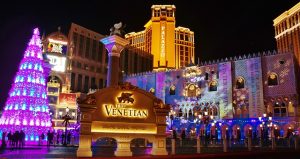 Las Vegas is the wedding capital of the world, and is truly a wonderful place to get married. In fact, more than 200,000 couples get married in Las Vegas every year! Why? Because what used to be a faux pas – running off to Vegas to get married – has become a fun and unique way to start your life together.  You and your partner can create a wedding experience that really represents your individual personalities and relationship, creating memories that will last a lifetime.
To start planning your Las Vegas wedding TODAY, call us toll free from Australia at (02) 9407 8400, or email us at Pure Las Vegas Weddings!
Why Get Married in Las Vegas?
When you get married in Vegas, the sky is (literally) the limit! You aren't limited to a quickie ceremony, and you needn't be wed by an Elvis impersonator – though you certainly can be if you'd like. In Las Vegas, all of your wedding dreams can come true!
What's your dream?
A traditional, romantic wedding with your family and friends in attendance?
Eschewing the formality of a traditional wedding, and eloping to Vegas for a simple, intimate ceremony with just the two of you, or maybe a couple of friends?
Getting married in a hot air balloon above the breathtaking Las Vegas landscape?
A rock'n'roll wedding straight from the 50s, with Fonzie or Austin Powers as guests?
Renewing your wedding vows on a memorable group holiday in front of Elvis and your closest friends?
A wedding ceremony surrounded by the splendour of the Grand Canyon, whether flying above in a helicopter or gathered in the heart of this natural wonder?
Your Las Vegas wedding is limited only by your imagination!