Mountain Air Wedding
The Mountain Air Wedding package is one of the most unique outdoor weddings that we offer. This wedding package offers a nice, quiet diversion from the non-stop noise and action in Las Vegas.
Something a little different but just as spectacular is the Mountain Air Wedding. After receiving your marriage license, it is a short 45 minute drive in your private limousine to the Mount Charleston Overlook.  You will be married at the overlook that has breath taking views of the valley below and the mountains above.  These views can not be described, they can only be experienced.
Your Mt Charleston Wedding includes the following
Limousine service from your hotel to the Mount Charleston Overlook and back to your hotel

Officiate to perform the ceremony

Professional Photographer to take 100 poses

Photos placed on a CD and ready in 24 hours

Bride 12 rose specialty cascade bouquet

Groom's rose boutonniere

6 inch round wedding cake

Toasting Glasses with complimentary bottle of Champagne

Minister Gratuity
From US$899 we can add on all the tips, taxes and gratuities so that you do not have to put your hand in your pocket on the day – us Aussies are not used that that!
Start your day with our HAIR & MAKE UP Session.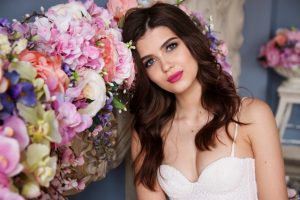 A Stylist will visit you in your room for your hair and make-up session, any length, any style there are no limitations to your choice on the day. What I love about this is you don;t need to leave your room, you don't need to run around Vegas (sometimes in the heat) getting from one appointment to another. I only use professional stylists that come to you. Up until your special day you can email me as many pictures of your hair and make up and I shall forward them onto the girls who will be well prepared for your day.
AFTER IT'S ALL SAID AND DONE! 
Dinner / Party or Snooze – its up to you!
We can book you a lovely romantic dinner in one of many special and cosy restaurants around VEgas where the lights of the Vegas Strip become your view as you dine and think about the day you just had. Or is it party time, whether you want a club, pub or bar we have it all. Rooftop locations are pretty amazing too so let us know what's your flava and we can continue with the celebrations. OR are you done!!!!!!!!!!!!!!!!!!! The day is over, its time to head back to your hotel, have a drink or even a cosy room service meal (if your parents and have your kids with you or have even left them at home with loved ones – no doubt sleep will win over any parties). We can help book your room in Vegas to guarantee a lovely bed to flop into or a panoramic view of the Las Vegas Strip to stare into.
When it comes to Las Vegas wedding planning, we're the experts. In fact, we are the only Las Vegas travel and wedding expert located in Australia, for Australians! As the only Australian Las Vegas wedding experts who work with Australians, we offer our clients knowledge, advice and information they can count on.
Visit us at Pure Travel or Contact us to enquire about the packages we have on offer.[/two_thirds]
Contact us for more information about this wedding package.
Contact us