Outdoor Chapel in Vegas
Commemorate your special day by committing lifelong love to your partner inside a charming western-style chapel at Bonnie Springs Ranch. Right in the middle of a western-themed town, this chapel is the perfect spot for an intimate ceremony.
Located less then an hour west of the Las Vegas Strip is the western themed town of Bonnie Springs, located just outside of Red Rock Canyon. Perched right in the middle of a western town, the Western Chapel offers a peaceful and scenic location for your special day.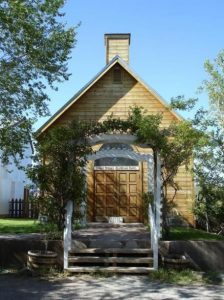 Your day begins with pickup by limousine from your Las Vegas hotel where you'll be transferred to Bonnie Springs. Your coordinator will be waiting to greet you and take you directly to the chapel for the ceremony.  Your package includes:
Bouquet

Walk down the aisle with your perfect Bridal Bouquet that you have selected your favorite color. There are many styles to choose from.

Boutonniere

The boutonniere is a small flower worn, usually by a man, in the buttonhole of a lapel. Your coordinator will pin it on for you right before the ceremony!

Champagne & Toasting Flutes

Enjoy a refreshing, sparkling beverage after your ceremony

Driver gratuity

Tip for your driver is inclusive in your price

Professional photographer

Our expert photographers are specially trained to capture the perfect moment. Professional Photographer to Capture Minimum of 35 Images. All Photos May Be Viewed on the private Website in Order to Select the Inclusive Enlargement

Official Wedding Document

For all legal ceremonies the couple must go to the Courthouse to purchase their marriage license. They must be together, and will need a photo ID. The fee is $77.00 and the courthouse is open every day of the year from 8am-midnight. If you are celebrating a Renewal of Vows ceremony, or a Commitment ceremony, a legal document is not necessary.

Officiant/Minister

The appointed person performing the Ceremony. All ceremonies are non-denominational. All legal ceremonies necessitate a person licensed by the state of Nevada to sign the official documents. Entertainers and Impersonators, can perform ceremonies as well, and some of them are licensed officiants.

Vehicle

Luxury vehicle to pick you up and drop you off at your strip hotel

Taxes

No hidden fees! Our prices already include all charges

Wedding Coordinator

Wedding Coordinators are professionals whose lives revolve around all things nuptial. Your coordinator will organize your ceremony and orchestrate all of the components ensuring all goes smoothly on your special day.
After you are happily married, you will enjoy wedding cake and a Champagne toast. Then you walk around this western town with your professional photographer for some memorable photos at various locations.
Costs – Prices do vary so please contact me for a FREE QUOTE!

Bonnie Springs Ranch is the ideal setting for a country wedding, commitment ceremony, or vow renewal complete with a wedding chapel and a saloon reception. Set in the western-themed Old Town at the base of beautiful Red Rock Canyon, the chapel services at Bonnie Springs Ranch offer a unique spin on the Las Vegas wedding experience. Free from the distractions and urgency of the Strip, the Old Town chapel offers a secluded, tranquil setting for your private event.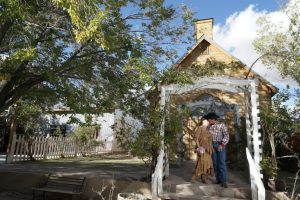 Please note: the price displayed does not include the marriage license which you will have to purchase at the Clark County Courthouse for $77.00 (subject to change).
When it comes to Las Vegas wedding planning, we're the experts. In fact, we are the only Las Vegas travel and wedding expert located in Australia, for Australians! As the only Australian Las Vegas wedding experts who work with Australians, we offer our clients knowledge, advice and information they can count on.
There is so much information on the internet, and everyone claims to be the best. It's confusing and time-consuming. We know Vegas and Vegas weddings inside and out and we know how to make your wedding day special and simple to organise.
LVWEDCON
Contact Michelle at Las Vegas weddings (02) 9407 8400 or click below.