Wedding in the clouds
Your wedding day is the beginning of your new life. Let Las Vegas Weddings create the wedding of your dreams so you can start your happily ever after.
The sky is your limit as you say I Do and have your wedding in the clouds in Las Vegas.
Imagine the most romantic day of your life. Now imagine that experience 1,149 feet above the city that never sleeps, in the only location in Vegas that offers magnificent views from all our venues.
Lace or lavender? Gardenias or roses? An intimate affair or a lavish wedding? The choices for Las Vegas weddings are endless. Select from spectacular options and amenities, including two classic chapels for the ceremony and elegant reception venues. Take your wedding to a whole new level with our indoor and outdoor Observation Deck weddings on Levels 108 and 109, private balcony weddings with a view on Level 112, and even thrill ride weddings.
Prices vary with different days of the week:
$449 Sunday through Thursday
$499 Friday and Saturday
$549 Holidays*
US Dollars
Prices are inclusive.
*Subject to availability, some holidays are excluded.
Upgrade your ceremony to the private balcony on Level 112 for an additional fee of $125.
Professional photographer is available for an additional $125 plus tax.
Package includes six 4×6 photographs.
Private appointments are made as early as the following day to view all of your photographs, giving you the opportunity to leave Las Vegas with your Wedding pictures. If an appointment is not possible, we will host your images online for viewing.
DVD of ceremony available for additional $275 plus tax.
This package does not include music, and is a brief, standing ceremony which lasts approximately 7-10 minutes. Additional $75 Minister's fee is payable in cash prior to ceremony.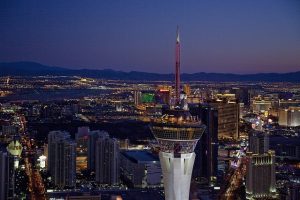 This package also offers you a reception venue in the same location with the most AMAZING VIEWS OF THE LAS VEGAS STRIP THAT CAN'T BE BEATEN. 
Raise the Excitement Level of your Wedding Celebration at Our Incomparable Las Vegas Reception Locations.
The Stratosphere Hotel offers the most exciting wedding and event spaces in Las Vegas. Our locations include the only revolving restaurant in Las Vegas, Top of the World, plus reception rooms more than 800 feet above the Strip, and banquet rooms in our iconic Las Vegas hotel. Other choices include a private area in the buffet or a Las Vegas showroom.
Reception Venues
All of our Reception Venues are newly remodeled featuring a fresh modern look and feel. We have also added a brand new rooftop pool & wet lounge, radiusºTM , as a perfect pool venue for ceremonies, receptions, and other events. Featuring breathtaking, panoramic views of the valley, radiusºTM adds Las Vegas glamour over 300 feet above the Strip to any party.
When it comes to planning your wedding in Las Vegas – we are the experts. In fact, we are the only Las Vegas travel and wedding expert located in Australia, for Australians! There is so much information on the internet, and everyone claims to be the best. It's confusing and time-consuming. We know Vegas and Vegas weddings inside and out and we know how to make your wedding day special and simple to organise.