The Little Vegas Chapel
A bit Fun.. A bit Zany..A bit Tacky… A little White Wedding Chapel has many different styles of weddings to suite all Wedding types.
Upon entering the Little White Wedding Chapel, you will be convinced that your wedding day will be beautiful. You will feel the romantic atmosphere surround you, enhanced with the traditional wedding music and that fragrance of fresh flowers. It will be the marriage ceremony you've always dreamed of having.
There are lots of Little White Chapels in Vegas, some are over the top, some are sweet, some are tacky – which one is the one for you? The Little Vegas Chapel ticks all the boxes, it is centrally located in Las Vegas, It is neat and tidy without being over the top typical Vegas Style. I would call it sweet but also fun. This chapel and the packages on offer would suit just 2 of you looking to run away and tie the knot or if the entire family are coming along, we can cater to any of those needs. Lets start with a simple package and change it if we need to.
From US$299 your package includes
Use of Chapel
Traditional Wedding Music
6 Rose Bouquet & Rose Boutonniere
Professional Photography (6-4×6's 2-5×7's 1-8×10 or 8 Digital Images)
Digital Video of Ceremony
Wedding Certificate Holder
We can add transport to get you from the hotel to the chapel and back, choose a Chauffer car, a Limousine, a PINK CADDY or even a Hummer if you need to. We can also add the tips taxes and hidden gratuities on as well.
No matter what style of wedding you choose or transport on the day we can guarantee this to be a fun, happy, memorable day full of laughs and special moments that you will never forget.
Our expert wedding coordinator will make sure all the details fall into place on your wedding day! All that you'll need to do on your big day is say "I do!"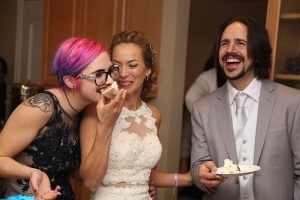 Visit us at Pure Travel or Contact us to enquire about our special deals.