With something new popping up all the time, we thought this would be a hit and for those travelling to Vegas in 2018 you can't miss out on Fly Linq at the Linq Promenade.
The Las Vegas Strip's first zipline is set to open in late 2018 at The LINQ Promenade. Fly LINQ will be a 12-story-high zipline that starts just off Las Vegas Boulevard (at the start of LINQ Promenade). Ten riders will zip toward the 550-foot-tall High Roller observation wheel at 35 mph. You'll fly 1,080 feet above the open-air shopping and dining district either seated or Superman-style.
The $20 million project, being developed in conjunction with Xventure LV, LLC, starts construction in the spring of 2018.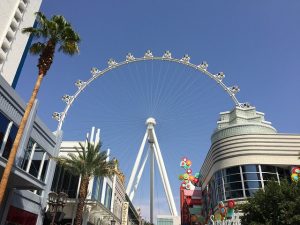 COMING SOON
HELL'S KITCHEN AT CAESARS PALACE
Gordon Ramsay will be heating things up at Caesars Palace Jan. 26 with the opening of the world's first HELL'S KITCHEN restaurant.
The restaurant is inspired by the popular TV show of the same name. Guests will be welcomed by the iconic bronze HK sign and the restaurant will feature red and blue design details. Chefs and cooks in the kitchen will be in the exact uniforms from the show – red and blue jackets with coordinating bandanas. Guests will enjoy beautiful views of the Strip from floor-to-ceiling windows.
HELL'S KITCHEN will serve several of the most successful signature menu items and recipes featured on the show like pan-seared scallops, lobster butternut squash risotto, truffle carbonara and crispy skin salmon. Special menu items from the show will also be added as new episodes air.
The winner of Season 17 of HELL'S KITCHEN All-Stars will be named head chef at the restaurant.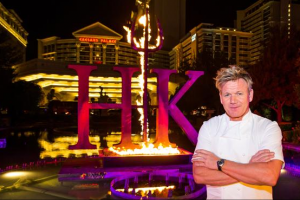 Don't Miss INFERNO: THE FIRE SPECTACULAR
Join Internationally acclaimed magic extraordinaire Joe Labero alongside Europe's craziest fire artists as you witness a gasoline spectacular* that mixes favorite acts and illusions with death defying fire stunts. It's hot, dangerous and scorchingly magical. Witness Inferno for yourself and be blown away by this stage spectacular!
INFERNO blends death-defying stunts and jaw-dropping illusions. The Fuel Girls will dazzle with huge fire props including flaming swords and whips, crowns of fire, arena-scale pyro rings, dragon canes, pyro staffs and spinning fire cubes, performing in and around while manipulating the fire itself in death-defying floor and aerial acts.
*FIRE, PYROTECHNICS, LOUD SOUND EFFECTS AND THEATRICAL SMOKE USED DURING THE PERFORMANCE.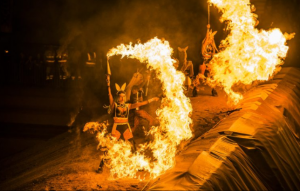 GETTING MARRIED IN LAS VEGAS. 
What could be more exciting than tying the knot in Las Vegas? Whether its atop the Eiffel Tower or surrounded by nature in the ultimate garden ceremony, your dream Las Vegas wedding is only moments away.
You can virtually get married anywhere, but if you want to go big with your Vegas wedding or renew your vows, now's the time to plan. And now that the Supreme Court has enabled nationwide recognition of same-sex marriages, Vegas welcomes you to celebrate your two-of-a-kind nuptials here as well.
For a Simple wedding with no bells and whistles that captures what it really means to be married then you can't go past our Endless Love package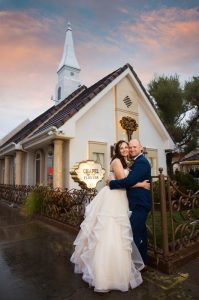 So what's next you ask, all i need is a date to get the ball rolling. It is a busy time of the year and very popular for all kinds of sweethearts to get married in Vegas so don't miss out.
When it comes to Las Vegas wedding planning, we're the experts. In fact, we are the only Las Vegas travel and wedding expert located in Australia, for Australians! As the only Australian Las Vegas wedding experts who work with Australians, we offer our clients knowledge, advice and information they can count on.
There is so much information on the internet, and everyone claims to be the best. It's confusing and time-consuming. We know Vegas and Vegas weddings inside and out and we know how to make your wedding day special and simple to organise.
Pure Las Vegas Weddings is a division of Pure Travel, located in Sydney. We are a full service travel agency and our wedding planning services are FREE when you book your airfares and accommodation packages with us. Because of our relationship with all the main hotels and the volume of travel to the United States, we have the best prices GUARANTEED!
Just click on the button below here to submit your enquiry, or just call me in the office from Monday to Thursday 930am – 430pm Sydney time.