Spring & Summer Weddings
With Spring and Summer just around the corner in Vegas the wedding season is ramping up. With our help we can find the right location for an outdoor wedding.
Spring and Summer weddings are so popular in Vegas but the question remains…………. WHERE TO GO???? There is a lovely little place only minutes from the Las Vegas Strip that has many an outdoor option with very affordable packages. Of course there are many packages to choose from, here is an idea of the kind of ceremony and reception offers that they have: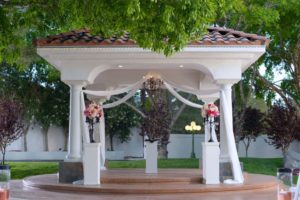 Private indoor chapel daytime ceremony and 1 1?2 hour cocktail reception (daytime only).
Use of Bridal Dressing Room (available half-hour prior).
Experienced DJ/Emcee (consultation required).
Unlimited photography, with Proofing Gallery and Photo Release (photographer included).
Complimentary bottle of Champagne.
Two-Tier Cake, with your choice of style, filling, flavor and decorations (consultation required).
1 1?2 Hour Open Bar, with premium liquor, beer, wine, juice, and soda.
3 hors d'oeuvres/appetizers.
Indoor and Outdoor garden photo options.
$100 floral credit.
Day-of Wedding Coordinator, with bridal consultation.
Non-denominational Minister (fee not included).
::From US$1695
Deposit: $500 (to reserve date and time) (non-refundable).
Minister Fee – $100.
Upgrades available.
No substitutions.
Additional guests – $75 each (max of 25 guests).
Balance due 18 days before event.
$1000 Premium for Evening Outdoor Ceremony (Subject to Availability. Mon.-Thurs. Evenings Only).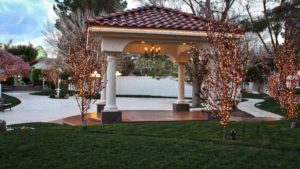 Your ceremony also doesn't have to have an Elvis impersonator singing your vows (unless you do want an Elvis impersonator – we can do that too).
At Sunset Gardens, you can rest assured that your chapel ceremony will be private, intimate, and elegant. You will be able to take as many pictures as you like on our 4-acre, landscaped garden property.
Located just minutes from the Las Vegas Strip, the Sunset Gardens Wedding Chapel is your answer to the ceremony of your dreams.
Whether you are having a ceremony only, a cocktail hour, or an elegant dinner reception, our adjoining Sunset Room offers all of your reception needs as well.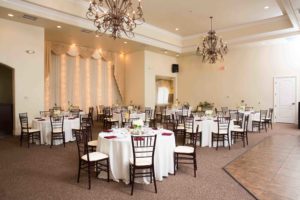 So what's next you ask, all i need is a date to get the ball rolling. It is a busy time of the year and very popular for all kinds of sweethearts to get married in Vegas so don't miss out.
When it comes to Las Vegas wedding planning, we're the experts. In fact, we are the only Las Vegas travel and wedding expert located in Australia, for Australians! As the only Australian Las Vegas wedding experts who work with Australians, we offer our clients knowledge, advice and information they can count on.
There is so much information on the internet, and everyone claims to be the best. It's confusing and time-consuming. We know Vegas and Vegas weddings inside and out and we know how to make your wedding day special and simple to organise.
Contact Michelle at Las Vegas weddings (02) 9407 8400 or click below.