If you want that 50's Vegas Scene then you can't go past The Golden Tiki Bar located in Chinatown Las Vegas. Along with special events there is always something going on, whether it be Live Music with Cold drinks and Hot Slots or a show by Krystal the Magician, there really is something for everyone. This cool, hip & happening place is worth a visit to soak up everything that Vegas was and still is.
Choose from a Classic Cocktail or a Tiki Twist or any one of their famous Captains Shots, Go with friends or your partner to be, this place has all the vibes that Vegas has to offer. Along with an extensive Cocktail list you can have a pretty amazing meal at The Golden Tiki Bar as well, The Flaming Hot Pu Pu's are a must and are served every Friday and Saturday from 6pm onwards.  What is in the Pu Pu you ask? Here is the Delicious Mouth Watering items you get served on a Classic Tiki Mokey Pod, Lazy Susan Style Dish, with flaming volcano Pot:
Sweet and Sour Pork
Lamb Kabobs
Veggie Spring Rolls
Chicken Potstickers 
Pineapple Skewers
There are only 15 available each Friday and Saturday so don't miss out.
WHY GET  MARRIED IN LAS VEGAS 
When you get married in Vegas, the sky is (literally) the limit! You aren't limited to a quickie ceremony, and you needn't be wed by an Elvis impersonator – though you certainly can be if you'd like. In Las Vegas, all of your wedding dreams can come true!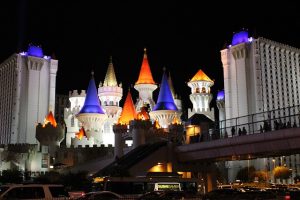 What's your dream?
A traditional, romantic wedding with your family and friends in attendance?
Eschewing the formality of a traditional wedding, and eloping to Vegas for a simple, intimate ceremony with just the two of you, or maybe a couple of friends?
Getting married in a hot air balloon above the breathtaking Las Vegas landscape?
A rock'n'roll wedding straight from the 50s, with Fonzie or Austin Powers as guests?
Renewing your wedding vows on a memorable group holiday in front of Elvis and your closest friends?
A wedding ceremony surrounded by the splendour of the Grand Canyon, whether flying above in a helicopter or gathered in the heart of this natural wonder?
Your Las Vegas wedding is limited only by your imagination!