When you think of coming to Las Vegas there are so many of the tourist highlights that come to mind however…….. One not to be missed is meeting Mini Elvis in Las Vegas!!! We work very closely with Dimos, The Little man  a.k.a Mini Elvis who helps us put the WOW Factor into all our Las Vegas Weddings. We can also book him as a transfers to take you from the airport to the hotel with a few photos stops along the way. There are many Characters that he can dress as to suite your holiday.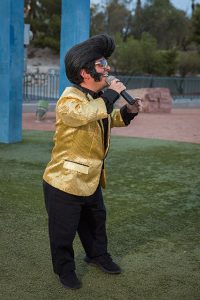 Dimos as Mini Elvis is seriously one the the highlights and whether you choose him to be your minster when you tie the knot in Vegas or if you want to go on a photo tour with him, he is certainly not to be missed. Here is a bit of information on the one and only Mini Elvis,
Actor-Singer-Entertainment & Mini Minister – Here are a few of the characters that he can do:
Mini Elvis
Mini Uncle Sam
Mini Yoda
Mini Cupid
Mini Oompa Loompa
Mini Leprechaun
Mini Elf
Mini Santa Claus
Mini Superman
Mini Badman
Mini Jester
Mini Policeman
Mini Sailor man
He is a Actor-Singer and Entertainer for the last 22 years.
Now for the last 7 years i'm also a Ordained Mini Minister.
I have studied Acting, Vocals, Face Acting and Voice overs.
Standing at 4' 2" inches tall and weigh 100.lb with brown hair and brown eyes.
For the last Seven years I'm living in the United States.
I'm a Las Vegas resident and American citizen.
At 2016 i have been performing as an Actor-Singer and Mini Elvis Minister for the show "Twisted Vegas" located at Westgate Resort Las Vegas. 
I have been performing as an Actor for 'Tournament of Kings' at the Excalibur Hotel and Casino for Two years at 2012-2013.
As well as performing as an Actor and a Mini Minister  at  'Goretorium' (haunted house) for One year at 2013.
At 2013 working for Las Vegas Club at Fremont's as a promoter for the Players Club and as a Mini DR.SHOOTS.
At 2013 I was the official Ordained Mini Minister for "The Life Is Beautiful" festival in Las Vegas breaking all the records 38 ceremonies(weddings-commitments-renewal of vows) in 2 days.
At 2014 and 2015 hosting the Snoopadelic Cabaret Show at Tao for Snoop Dogg.
E.D.C. 2014 Las Vegas hosting the Absolut Vodka promotion.
Official Mini Dr.Shoots for Absolut Vodka promo at The Largest Bachelorette Party Tao Venetian Hotel & Casino Las Vegas 2013.
Official Mini Leprechaun for Jameson Irish Whiskey promo at St.Patrick's 2014 and 2015 weekend.
Official Mini Leprechaun for Aliante Hotel & Casino Las Vegas 17 Days of Lucky Promo at 2014.
The list goes on & on however I am sure that after reading all of this – you don't need any convincing to meet him in any capacity.

There is not much he can't do. We have booked Dimos to escort Bachelorette and Bachelor parties which are a night you will never EVER Forget. I have also booked Dimos to take you to the Nevada Clark County (in or out of character) and assist you with the legalities of getting married in Vegas. He is a wonderful addition in any capacity to your Vegas Holiday. If you are thinking of getting Married in Vegas, be sure to check out our Elvis wedding packages.