Chapel Elopement Wedding
We believe your wedding should be a reflection of who you are as a couple. To that end, the Elopement Wedding Package offers a ceremony that is as timeless as it is romantic.
The Elopement Wedding is an intimate ceremony—heartfelt and meaningful, yet affordably priced. Our beautiful candlelit chapel offers a traditionally elegant setting, with soft, romantic lighting, a lofty pitched ceiling, and stained glass windows. This package includes all the essential elements to make yours a memorable ceremony.
From US$475 your package includes the following:
Ceremony Performed in The Main Chapel
6 Rose Bouquet
Boutonniere
8 Candid Photos (taken during ceremony)
Souvenir Wedding Scroll
Candlelit Chapel
Music
Complimentary Sedan Service to and from the Chapel for the Couple
Wedding Website and Wedding Invitation
Your Names In Lights on Our Marquee
Wedding Coordinator
Photographer
Witness
Chapel Fee
Upgrade to a Limousine for USD$95 Return transfers , pick up from the hotel & return after your ceremony or to a downtown location. 
By booking with Las Vegas Weddings we can add all the tips, gratuities and sales taxes so you need not worry about anything extra on your day.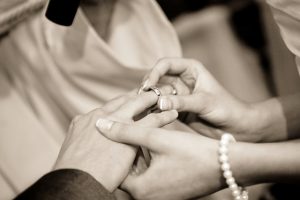 If your bride has captivated you by her magical spell, she can continue the enchantment on your wedding day as you both say I-Do in a private and romantic location.
And I'd choose you;
in a hundred lifetimes,
in a hundred worlds,
in any version of reality,
I'd find you and
I'd choose you.
Is there a Fee?
Yes there is a wedding planning fee of $285 inclusive of GST.  We have an expert wedding planner on the ground in Las Vegas plus expert USA travel consultants ready to assist you with the best flight and accommodation deals.  Don't worry you'll save more than that in time and you'll be sure that each one of our hand-picked suppliers are going to look after you.
To plan your wedding day be sure to  Contact us to enquire about our special deals.
Contact us for more information about this wedding package.