Grand Canyon and Landing
It is difficult to picture any outdoor setting more spectacular than the Grand Canyon in which to exchange marriage vows. Imagine standing across from each other amidst millions of years of geological history against the backdrop of colorful cliffs and the mighty Colorado River.
Nothing beats the Grand Canyon and Landing package. This is the ULTIMATE way to see the Grand Canyon. This is also a great way to combine your wedding and the Grand Canyon Tour. Again we have 3 magical packages on offer for you.
PAINTED DREAMS 1) US$3299
Private aircraft and landing site
Minister
Limousine transportation
Champagne, hors d'oeuvres and beverages
PAINTED DREAMS 2) US$3399
Private aircraft and landing site
Minister
Limousine transportation
6 rose bouquet, boutonniere and wedding cake
Champagne, hors d'oeuvres and beverages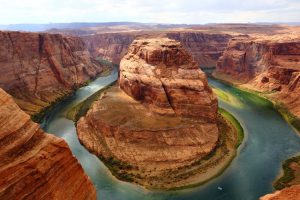 (Photo: Colorado River)
PAINTED DREAMS 3) US$3899
Private aircraft and landing site
Minister
Photographer (100 photos on CD and DVD of ceremony)
Limousine transportation
6 rose bouquet, boutonniere and wedding cake
Champagne, hors d'oeuvres and beverages
An over view of your day:
Duration: approx. 3.5 hours (hotel to hotel)
Price includes all taxes, fees and a $200 Valley of Fire park charge.

Your adventure will begin with an amazing flight over the famous Hoover Dam and Lake Mead, continuing on to the Valley of Fire, where you will land on an exclusive plateau overlooking incredible red sandstone formations with brilliant contrasting color. You will exchange your vows in this beautiful location with views in every direction. After your ceremony enjoy a champagne toast, hors d'oeuvres and many incredible photo opportunities.
Conclude your wedding day with a breathtaking flight over the Las Vegas Strip and Downtown Las Vegas.
Not only can we organise your perfect day with the perfect venue but we can also organise for a hair and makeup artist to come to your hotel or you and your bridal party can be pampered in their salon. Our expert hair and makeup artists are professionals and wedding hair and makeup are their speciality.
Bridal hair and makeup packages are as follows in USD:
Hair $100
Airbrush Makeup $100
Makeup $90
Hair and airbrush makeup $170
Hair and makeup $155
Lashes $10
Mens style $50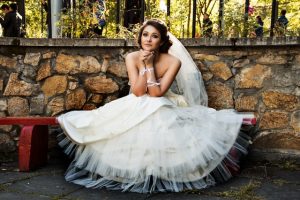 You will be allocated a stylist for the day, if you wish to send through pictures of hair styles & make up suggestions I can email these across in advance so your stylist has a really good idea of what look you're after. You can customise and create the perfect look for the day with our professional salon staff.
So what's next you ask, all i need is a date to get the ball rolling. It is a busy time of the year and very popular for all kinds of sweethearts to get married in Vegas so don't miss out.
When it comes to Las Vegas wedding planning, we're the experts. In fact, we are the only Las Vegas travel and wedding expert located in Australia, for Australians! As the only Australian Las Vegas wedding experts who work with Australians, we offer our clients knowledge, advice and information they can count on.
There is so much information on the internet, and everyone claims to be the best. It's confusing and time-consuming. We know Vegas and Vegas weddings inside and out and we know how to make your wedding day special and simple to organise.
Pure Las Vegas Weddings is a division of Pure Travel, located in Sydney. We are a full service travel agency and our wedding planning services are FREE when you book your airfares and accommodation packages with us. Because of our relationship with all the main hotels and the volume of travel to the United States, we have the best prices GUARANTEED!
Is there a Fee?
Yes there is a wedding planning fee of $285 inclusive of GST.  We have an expert wedding planner on the ground in Las Vegas plus expert USA travel consultants ready to assist you with the best flight and accommodation deals.  Don't worry you'll save more than that in time and you'll be sure that each one of our hand-picked suppliers are going to look after you.
What if I only want us to organise the wedding package and not the travel plans?
No problems at all, although we'd love the opportunity to quote for your travel arrangements and your honeymoon.
How to start?
Give us a call or contact us online and we can commence the process with you.
[/two_thirds]
Contact us for more information about this wedding package.
Contact us