Las Vegas Sign with Mini Elvis
Ever wanted to be married by mini Elvis?
Meet Dimos, actor, singer and arguably the best mini Elvis impersonator and celebrant in Las Vegas. He's 4 foot 2 inches of fun with the sexiest Southern European accent that has to be heard to be believed.
He doesn't just do Elvis and has over a hundred different costumes and can be anything you choose. Some of the others include Mini Cupid, Mini Batman, Mini Superman and basically anything you like. Dimos is hilarious, you won't be disappointed because he'll have you and your guests in stitches.  Dimos' wife Kaaren is also available if you want to have a mini Marilyn Monroe sing for you at your wedding as well.  Book one or both them and have a ceremony that you'll never forget!
This wedding package featuring Mini Elvis at the Las Vegas Sign is one of our HOTTEST Packages on offer, Why? Being Married by "Mini Elvis" at the Las Vegas Sign – need we say more.
Inclusions:
Return Limousine Transportation  from your Vegas hotel to the Las Vegas Sign
(Mini Elvis will meet you at the sign)
Mini Elvis to sing 3 songs
Elvis Vows & Ceremony by Mini Elvis
Unlimited amount of photos taken by you including Mini Elvis, yourselves and all your guests.
Location for this service is the LAS VEGAS SIGN All Marriage Paperwork is taken care
of by Mini Elvis
Duration of time: 1hour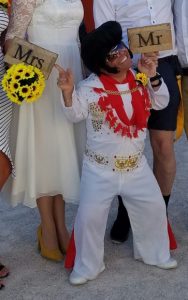 This can also be booked as a VOW RENEWAL where as Mini Elvis does not need to sign any paper work – he just supplies the fun. The prices vary depending on the day of the week (FIR-SUN are a bit pricier & mid week is a little cheaper) Contact us for the price as we can also include all the taxes and gratuities for you.
Here's a video of Mini Elvis in action!
AFTER IT'S ALL SAID AND DONE! 
Dinner / Party or Snooze – its up to you!
We can book you a lovely romantic dinner in one of many special and cosy restaurants around VEgas where the lights of the Vegas Strip become your view as you dine and think about the day you just had. Or is it party time, whether you want a club, pub or bar we have it all. Rooftop locations are pretty amazing too so let us know what's your flava and we can continue with the celebrations. OR are you done!!!!!!!!!!!!!!!!!!! The day is over, its time to head back to your hotel, have a drink or even a cosy room service meal (if your parents and have your kids with you or have even left them at home with loved ones – no doubt sleep will win over any parties). We can help book your room in Vegas to guarantee a lovely bed to flop into or a panoramic view of the Las Vegas Strip to stare into.
When it comes to Las Vegas wedding planning, we're the experts. In fact, we are the only Las Vegas travel and wedding expert located in Australia, for Australians! As the only Australian Las Vegas wedding experts who work with Australians, we offer our clients knowledge, advice and information they can count on.