New Years Day Wedding
Imagine for a moment the perfect Vegas wedding venue: elegant and serene, an oasis of bliss that is ideal for your dream ceremony. Your dream is about to come true.
Ring in the new year as you marry the one you love. Romantic or what??????????? We are the specliasts in Las Vegas Weddings and have had many New Year Day weddings and whilst it is a bit chilly over in Vegas we can keep you warm and cosy in any of the sweet chapels that Vegas have to offer.
From US$499 your all inclusive package includes:
Choice of Chapels

Complimentary Limousine service

Traditional Wedding Music

12 Rose Cascade and Boutonniere

Professional Photography

16-4×6's 8-5×7's 3-8×10's

DVD of Ceremony 

Brides Garter

Champagne Flutes

Complimentary bottle of Champagne

Certificate holder for the marriage license

Souvenir Marriage Vows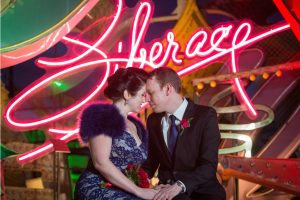 Not only can we organise your perfect day with the perfect venue but we can also organise for a hair and makeup artist to come to your hotel or you and your bridal party can be pampered in their salon. Our expert hair and makeup artists are professionals and wedding hair and makeup are their speciality.
Bridal hair and makeup packages are as follows in USD:
Hair $100
Airbrush Makeup $100
Makeup $90
Hair and airbrush makeup $170
Hair and makeup $155
Lashes $10
Mens style $50
You will be allocated a stylist for the day, if you wish to send through pictures of hair styles & make up suggestions I can email these across in advance so your stylist has a really good idea of what look you're after. You can customise and create the perfect look for the day with our professional salon staff.
So what's next you ask, all i need is a date to get the ball rolling. It is a busy time of the year and very popular for all kinds of sweethearts to get married in Vegas so don't miss out.
When it comes to Las Vegas wedding planning, we're the experts. In fact, we are the only Las Vegas travel and wedding expert located in Australia, for Australians! As the only Australian Las Vegas wedding experts who work with Australians, we offer our clients knowledge, advice and information they can count on.
There is so much information on the internet, and everyone claims to be the best. It's confusing and time-consuming. We know Vegas and Vegas weddings inside and out and we know how to make your wedding day special and simple to organise.
Pure Las Vegas Weddings is a division of Pure Travel, located in Sydney. We are a full service travel agency and our wedding planning services are FREE when you book your airfares and accommodation packages with us. Because of our relationship with all the main hotels and the volume of travel to the United States, we have the best prices GUARANTEED!
Just click on the button below here to submit your enquiry, or just call me in the office from Monday to Thursday 930am – 430pm Sydney time.