Package from Australia
Packages from Australia custom built for your Las Vegas Wedding. We take the hard work out of it for you. We package the flights, accommodation and ceremony together with prices that INCLUDE ……..EVERYTHING…………. of course we can change the package if you do not want a chapel wedding, we can do a outdoor wedding, Valley of the Fire or Las Vegas sign. There are so many to choose from & the beauty is we do it all for you.
Let us make it easy with an all inclusive package from Australia. This includes Flights, 4 nights accommodation & a Traditional Sweet Chapel Ceremony. We have created this for you to take the hard work away. Of course there are different prices for different times of the year. Mainly the flights and accommodation prices change. The package below includes flights from Sydney however we can change this when you call through if you are departing from another Australian State.
Package 1) Chapel Package.
Inclusions:
>Return flights with United Airlines from Sydney via Los Angeles
>4 Nights Accommodation – Twin Share at The Luxor Hotel and Casino in a King Pyramid room
>Chapel Ceremony inclusions:
>1 –  7 Rose Hand Tied Bouquet
>1 – Rose Boutonniere
>14 FREE 4×6 Professional Ceremony Photos
>1 – Return Limousine Transfers to & from your hotel
>Traditional Wedding Music or you can bring your own music on a CD or IPod
>1 – Unity Candle lit in the ceremony which is yours to keep
>Personal Wedding Planner and Wedding Coordinator assigned to you for your day
>1 – Live Broadcasting to anywhere in the world. to show your loved ones back home.
Chapel:


Package price for 2 Adults, all taxes and gratuities included TOTAL FOR 2 INCLUDING FLIGHTS (Are you ready)…
AU$5200.00 – Did I mention that includes EVERYTHING!!!!!
Package 2) Elvis Ceremony.
Take the same flights above, the same accommodation above & add an Elvis Package instead of a Sweet Chapel Ceremony. Here is one of our most famous Elvis Packages:
>Ceremony Performed in The Main Chapel
>Elvis will sing 3 songs and perform the wedding ceremony
>Elvis will escort you down the aisle
>3 Rose Bouquet
>Boutonniere
>8 Candid Photos (taken during ceremony)
>DVD
>Elvis Certificate
>Candlelit Chapel
>Complimentary Limousine Service to and from the Chapel
>Wedding Website and Wedding Invitation
>Your Names In Lights on Our Marquee
>Wedding Planner
>Wedding Coordinator
>Witness
>Chapel Fee
This Guy: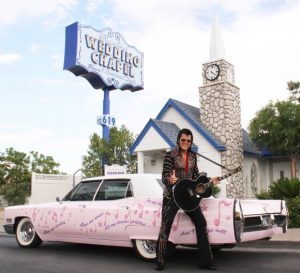 Package price for 2 Adults, all taxes and gratuities included TOTAL FOR 2 INCLUDING FLIGHTS (Are you ready)…
AU$4999.00 – Did I mention that includes EVERYTHING!!!!!
There is so much information on the internet, and everyone claims to be the best. It's confusing and time-consuming. We know Vegas and Vegas weddings inside and out and we know how to make your wedding day special and simple to organise.
We can also help with Hair and Makeup, Photo tours, dinners afterwards, tours and much much more! We can help with obtaining your USA ESTA VISA WAIVER, your Las Vegas Marriage License, Travel Insurance. We are your One Stop Shop!!!!
Prices are subject to change until we check availability of course.
Please phone on (02) 9407-8400 or contact us by clicking on this button and we will get back toy you.