Contrary to popular belief you can have a Elvis Wedding at a Chapel without it being too tacky. The one and only Mini Elvis can help put that romantic spin on your day without it feeling like a wedding from the hangover movies. This is a great package if you want a little bit of romance with a 'little' bit of Elvis too.
Mini Elvis performance 3 Live Elvis songs
Ceremony performed in Little Chapel of the West
Mini Elvis to officiate the wedding or vow renewal ceremony with special Elvis Vows and taking care all the paperwork
Option to have Mini Elvis walk the bride down the aisle
Bride's hand-tied bouquet of 7 fresh roses in your choice of red, white, or ivory
Groom's boutonnière
Custom designed certificate holder
Professional photo session with the bride and groom
$100 credit towards photos
DVD video of your ceremony
Personal online photo and video gallery.
From US650 this cost includes all the bits and pieces above to create a fun filled day.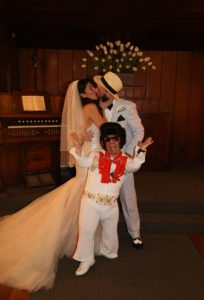 Guests will not be permitted to take photos or video in the chapel with this package || This package does not include tips and gratuities, these need to be paid direct on the day.
Wave goodbye to Mini Elvis and now its time to party!!!!
We can add a professional photography package to this that will accommodate the journey, ask us for prices on our wedding photography tours.
Enquire about this package now, we can cater the quote to suit your wedding party. It might be just the 2 of you or a group celebration. The more the merrier.