This is the ultimate Elvis Wedding.  You will be picked up from your hotel be the king himself in his famous "Pink Caddy".  The King will then drive you down the strip to the Famous Special Memory Wedding Chapel where you can either be married in our New England Style Wedding Chapel or chill in the caddy at our world famous drive thru window.  The King will of course serenade you with 3 of his famous songs and then drive you back to your hotel!
Your package includes
Choice of Chapels or World Famous Drive Thru
Picked up and returned to your hotel by Elvis in his famous, "Pink Caddy"
Elvis serenade the couple with 3 of his most famous songs
6 Rose Bouquet
Rose Boutonniere
Professional Photography
6-4×6's 2-5×7's 1-8×10
DVD of Ceremony
Souvenir Marriage Vows
Minister's Gratuity not included
Package doesn't include the $60 fee for the Minister and the tip for the driver, we can include this for you so there will be no need to take any cash with you on the day. This package starts at USD$749. We can then add the fees, tips and gratuities on for you so you do not have to put your hand in your pocket on your wedding day.
ALSO would you like to do a photo tour up the strip in this Pink Caddy, with Elvis??? We offer that as an add-on to this package too, ask us for the price when you call through.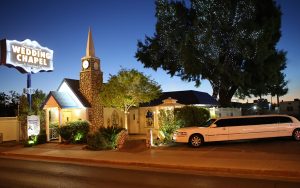 What Does Pure Las Vegas Weddings Have to Offer?
As the only Australian Las Vegas wedding experts who work with Australians, we offer our clients knowledge, advice and information they can count on. We know you have questions, and at Pure Las Vegas Weddings, we have all the answers you need!
We also have a wonderful team member located in Las Vegas who is able to help you with absolutely everything.  We've had some strange requests and we've been able to handle it all.  Try us ..
Some of our other resources and services include:
Complete trip and wedding planning, from airfare to choosing the perfect ceremony. We take care of everything!
Negotiation of special rates and complimentary services with vendors we know and trust – and no booking fees!
Detailed information and up-to-date articles on the various types of chapels and wedding packages available in Las Vegas.
Advice on meeting the legal requirements for Australians who want to get married in Las Vegas (see our step-by-step booklet by requesting it from our website).
Help in coordinating all of the extras – the photographer, florist, hair stylist and more.

How to start?
Give us a call or contact us online and we can commence the process with you.