From an amazing angle that overlooks the Red Rock Canyon, you will exchange your marriage vows amidst a protected and magical environment that offers one of the most untouched backdrops for your wedding –
CAN IT GET ANY BETTER?????
From USD$1099 it includes the following:
Limousine service from your hotel to the Red Rock Canyon Overlook and back to your hotel
Officiate to perform the ceremony
Photographer to take 100 poses
Photos placed on a CD and ready in 24 hours
Bride 12 rose specialty cascade bouquet
Groom's rose boutonniere
6 inch round wedding cake
Toasting Glasses with complimentary bottle of Champagne
Minister Gratuity
When you ask your self 'why use a wedding planner' well here is the answer, this package comes with photography right??? yes it does BUT – We can assure you that if we take this photographer out and add our own (prices are subject to change with a professional wedding external photographer) then you are guaranteed to get photos like this:
And this………………………………………………..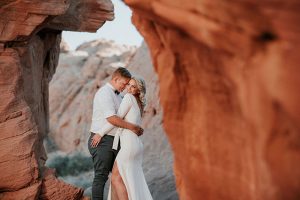 So ask us more when you call through. What we can assure you is that these photos can never be reproduced unless you go back and do it all again. So why not spend a bit more of your savings to gain the most amazing wedding photography in the most stunning location and return home with Platinum level photos. We 100% Guarantee the quality and the experience.
AFTER IT'S ALL SAID AND DONE! 
Dinner / Party or Snooze – its up to you!
We can book you a lovely romantic dinner in one of many special and cosy restaurants around Vegas where the lights of the Vegas Strip become your view as you dine and think about the day you just had. Or is it party time, whether you want a club, pub or bar we have it all. Rooftop locations are pretty amazing too so let us know what's your flava and we can continue with the celebrations. OR are you done!!!!!!!!!!!!!!!!!!! The day is over, its time to head back to your hotel, have a drink or even a cosy room service meal (if your parents and have your kids with you or have even left them at home with loved ones – no doubt sleep will win over any parties). We can help book your room in Vegas to guarantee a lovely bed to flop into or a panoramic view of the Las Vegas Strip to stare into.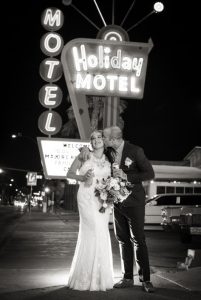 Why book with Las Vegas Weddings……….. Not only can we do your wedding and everything you need like hair and make up, photography packages, limousine and hummer hire, reception and restaurant bookings, we can also be your one stop shop and book your flights, hotels, day tours, travel insurance and ensure that your wedding package along with your travel arrangements are taken care of by 1 person only. Visit us at Pure Travel or Contact us to enquire about the packages we have on offer.