Vegas City Lights Package
Exclusive to us at Las Vegas Weddings is the Neon Bone yard Photography package. This is a quintessential place in Vegas where you can have an exclusive photo shoot for your wedding day. As we have an exclusive deal with the Neon Bone yard we know the best place to have your photos, the most INCREDIBLE shots as the LED lights get switched on at Sunset.
This is one of my personal favourites and a GREAT Add on to your ceremony, I can almost guarantee that this will be the highlight of your Vegas wedding. There is nothing else like it on offer and I promise you will feel like the princess in the Disney Movies, you will feel like the Angle amongst the stars.
LIGHTS!!!!!!! LIGHTS!!!!!!! VEGAS CITY LIGHTS!!!!!!!! That is what comes to mind when you think of Las Vegas, so after your ceremony you can have a private photo shoot with just the 2 of you, or you can have your wedding group as well at one of the most magical spots in Vegas where Vegas Signs come to rest and light up at twilight when the LED lights are all turned on.
A 1 hour photo shoot is  USD$600 and includes the following:
1 Hour Private Photo Experience Session
Sunset Time Slot
Location: The Main Bone yard
Unlimited Photos (literally – there is no minimum amount of photos, get your grin ready as you explore this playgroud of lights that make you feel like your in a fairytale)
The 1 Hour photo session quoted at USD600 is the location only – we have an exceptional photographer that works closely with us and the Bone yard who has had the pleasure in photographing hundreds of photo shoots here. Add on a 1 hour photo shoot with our wedding professional for USD 450 which includes the following;
*Unlimited photos
*1 photo album with 24 – 4×6 photos professional printed and mounted in a gorgeous layout
*Of your unlimited photos over 6 are specially edited in a photoshop (collage || black and white || sepia etc)
*All photos are edited  in color
*60 day online gallery is uploaded to you that night (time to hit the social media sites if you wish).
*CD/DVD along with your album is hand delivered to your hotel that next morning.
If you are leaving Vegas the next day we can always organise for international postage home * fee applies
I CAN GUARANTEE YOU THAT THERE IS NO WHERE ELSE YOU WILL GET ALL YOUR PHOTOS SO QUICKLY – THIS IS THE SERVICE THAT ONLY US HERE AT LAS VEGAS WEDDINGS CAN GUARANTEE.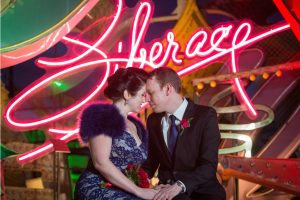 The Main Bone yard holds our primary museum collection where tours are held. The restored signs are turned on and the unrestored signs are lit at sunset.
There are conditions around booking this EXTRAORDINARY location and with our help we can make sure that there is nothing left undone.
We warn that the Bone yard is full of broken glass and rusty metal and ask that guests of the museum do not touch, lean or stand on any of the museum pieces.  The Bone yard is not a place for children, we do not recommend children under 7 on shoots due to safety concerns.  Also please note that the yard has been remodelled, the arrangement has changed and some signs that you have seen in prior photo shoots may not be available.
Why book with Las Vegas Weddings……….. Not only can we do your wedding and everything you need like hair and make up, photography packages, limousine and hummer hire, reception and restaurant bookings, we can also be your one stop shop and book your flights, hotels, day tours, travel insurance and ensure that your wedding package along with your travel arrangements are taken care of by 1 person only. Visit us at Pure Travel or Contact us to enquire about our special deals.