You can have a Las Vegas Wedding Anywhere! Yes you can, we can organise this for you, whether it be the 2 of you, a small group or the whole family and friends coming along. There are some AMAZING AND FREE locations in Vegas to say I do. Here are a few of them with some lovely wedding photos taken by my photographer –  ask me about her too!
Caesars Gazebo – FREE
It costs you nothing to be married here. An amazing spot with the Bellagio fountains across the road and some romantic scenery in the background.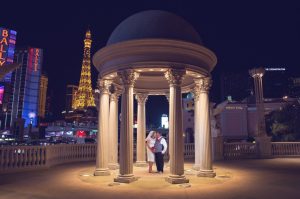 Las Vegas Sign – FREE
Yes another free spot and this is a great location if you want that fun vegas feel to your wedding. With the Harley Davidson Store just behind you, this is another great spot to rock some pretty cool photos.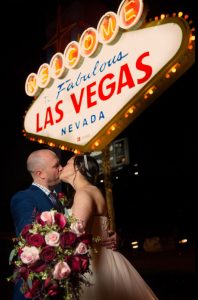 Bellagio Fountains – FREE
This is soooooooooo pretty right?! An amazing place to say I Do & although it s a free location we do need to be careful not to linger as sometimes, just sometimes the rangers are out and about in peak season.

Symphony Park – FREE
Yes, another free location to be married at. Like any outdoor garden type area the weather can sometimes be your deciding factor. This is such a nice spot for a pretty wedding. The photos are amazing and the manicured gardens and backgrounds make for some lovely pictures.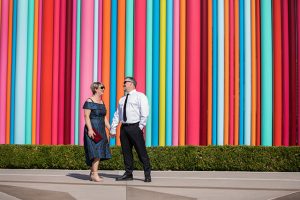 Wedding Celebrant – THE BEST!!!
I work with a Lovely Las Vegas Celebrant who I trust completely. For any of these mentioned locations there is no distance fee charged. For Rhonda to meet you and conduct your ceremony her once off fee is USD $215 and this includes the following:
*15 minute Service
*Wedding Service is personalised to your needs, you can even write your own vows if you wish
*Unity Candle
*All your legal paperwork taken care of
*Wedding Consultation
*All the taxes & gratuities are taken care of so you do not have to put your hands in your pockets
Here is a short video of Rhonda and some of us Aussies appear on this clip
Contact me today to talk about the best way to plan your day. As a Travel Consultant turned wedding planner I can help with all your travel plans if needed along with your Las Vegas Wedding. Ask for Michelle when you can (02) 9407 8400 I work Monday to Thursday from 9:30am to 4:30pm
Don't forget to check out our other Las Vegas Weddings – There might be something else your interested in that I can help you with.