Vegas opulence is second to none: Some of the very best Las Vegas hotels offer palatial penthouses with ensuite bowling alleys, 10,000-square-foot villas with rooftop patios, access to the city's best pools. And it can all yours—for about $35,000 per night. But the city's visitor stats haven't swelled to nearly 43 million people per year thanks to casino whales and celebrity guests. The magic of Vegas is its ability to give you what you want, including a comfy hotel room at a reasonable price. And, with these amazing (and cheap) hotels in Las Vegas, saving on accommodations doesn't have to mean sacrificing style or amenities. At these affordable resorts—many within earshot of not-to-be-missed Las Vegas attractions—you'll sleep soundly and save some cash for an extra show or night on the town.
Our Top 5 based on customer feedback will blow your mind. We have fantastic rates at these hotels so when you book your holiday/wedding with us you can be sure that we are getting the best rate for you.
#1 The Westin Lake Las Vegas
Don't let the price tag fool you. This non-casino hotel 30 minutes from the airport is far more glamorous than its room rate suggests. Set along man-made Lake Las Vegas, the Westin has a grand Middle Eastern feel with hanging lanterns, ornate tile work, terra cotta tones and an indoor-outdoor aesthetic that encourages you to make good use of the pool and expansive patio overlooking the water. What it lacks in table games or bumping nightclubs it makes up for in standup paddle board lessons, beachy bonfires and access to an 18-hole golf course right next door.
#2 The Linq Hotel & Casino
The newest addition to the Caesars family, this center-Strip casino underwent a complete renovation and rebranding in 2014, so the rooms feel contemporary and fresh, and the whole resort still has a bit of that new hotel shine. Designed with younger visitors in mind, the Linq offers rooms for a crowd with two queen beds and an extra lofted bunk (starting around $69), affordable spa treatments (hello, Himalayan salt cave) and in-room fitness carts stocked with yoga mats and foam rollers available to guests free of charge. Best of all, the Linq Promenade, packed with restaurants, bars and shops, is just a few steps away.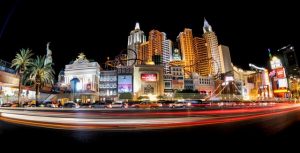 #3 Palms Casino Resort
Once the celeb and nightclub capital of the casino corridor, today the Palms is a little less bumping and a little more laid back. But many of the ingredients that made it the hottest of hot spots are still in place, namely slick rooms with sensational views (book the Ivory tower, recently redesigned by Klai Juba), tasty restaurants (try N9ne Steakhouse or Andre Rochat's Alize), party options (Ghostbar Dayclub turns afternoons debaucherous all winter long) and one of the best concert venues in town with a lineup that's had a welcome refresh. It may not be on Las Vegas Boulevard, but the Palms is still a fabulous place to base your vacation.
#4 Monte Carlo Resort & Casino
The Monte Carlo is in its final days. By the end of 2018, the property will undergo a $450 million transformation into two new hotels: Park MGM and a Vegas location of NoMad Hotel. Why should you stay in a hotel that's also a construction site? Because the price is very right. For now, rooms are starting around $40, and you have access to the brand new Park Theater (Cher residency, anyone?), the Park dining corridor and T-Mobile Arena (where the NHL's Golden Knights will play this fall). Most of the Monte Carlo is still operating as usual, and though the pool is closed for renovations, guests get free passes to Mandalay Beach or the MGM pool.
#5 Golden Nugget Las Vegas
You want a comfortable hotel with all the trimmings at a price that will leave plenty of cash left over to lose in the casino. May we introduce the Golden Nugget. This Downtown hotel is a close cousin to the Strip's mega resorts, complete with a full casino, an array of restaurants, live entertainment and a one-of-a-kind pool, which boasts a massive shark tank and a three-story water slide that zips safely through it. Look for rooms in the modern Gold or Rush towers, and when you're done exploring the onsite amenities, step out the front door to join the Fremont Street fray.
When it comes to planning your wedding in Las Vegas – we are the experts. In fact, we are the only Las Vegas travel and wedding expert located in Australia, for Australians! There is so much information on the internet, and everyone claims to be the best. It's confusing and time-consuming. We know Vegas and Vegas weddings inside and out and we know how to make your wedding day special and simple to organise.
Pure Las Vegas Weddings is a division of Pure Travel, located in Sydney. We are a full service travel agency and our wedding planning services are FREE when you book your airfares and accommodation packages with us. Because of our relationship with all the main hotels and the volume of travel to the United States, we have the best prices GUARANTEED!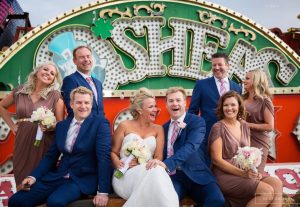 We are a fully licensed travel agency and a Travelscene American Express office. Ask us about using your American Express Membership Rewards points to pay for your wedding!
Las Vegas is the wedding capital of the world, and is truly a wonderful place to get married. In fact, more than 200,000 couples get married in Las Vegas every year! Why? Because what used to be a faux pas – running off to Vegas to get married – has become a fun and unique way to start your life together.  You and your partner can create a wedding experience that really represents your individual personalities and relationship, creating memories that will last a lifetime.
To start planning your Las Vegas wedding TODAY, call us toll free from Australia at 1800 747 848, or email us at Pure Las Vegas Weddings!