It's Pool season in Vegas & along with Rooftop pool parties, celebrity appearances or surfing on the strip, these are just a few of the things to do in Vegas during pool season. And guess what? The party's already started, baby. Let us hype you up with a few of our best pools in Las Vegas:
JERSEY SHORE (AND MUCH MORE) AT DRAI'S 
Where: The Cromwell
Why we love it: You can indulge in the party of a lifetime and still make it on time for dinner… then the night is free to party all over again.
Must-have drinks: Frozen Moscow Mule; Eden's Apple (Hennessy Black, Cointreau, fresh lemon sour and ripe cold pressed apple juice); or Drai's Lemonade (Belvedere Original, peach puree, raspberries and fresh lemon sour.
Get ready to fist pump like it's 2009: Drai's Beachclub is ready. See "Jersey Shore's" DJ Pauly D on Saturday, March 17. With "Jersey Shore" back on the air, we imagine your day at Drai's will be as fun as Pauly D's hair. You better get your GTL on. (And if you don't know, you better ask somebody!)
If you're ready to do it all over again, A-Trak, Sunday March 18. Don't miss up-and-coming EDM artist Troy BoiSaturday, March 24. We're still in awe of his stellar performance at last year's Life Is Beautiful Vegas festival. Other acts to look forward to this year include Zed's Dead, Deux, Major Lazer's Walshy Fire, Dada Life and more. While you're here, enjoy Drai's signature Frosé or grab a bite from the café.
Get caught up with the latest and the greatest with Drai's Beachclub calendar. You can also swim by moonlight every Tuesday night.
Hours: Mon. – Thurs., 10 a.m. – 6 p.m.; Fri. – Sun., 11 a.m. – 6 p.m. (Night Swim: Tuesday, 10:30 p.m. – 4 a.m.).
Cost: Ticket prices start at $30 for males and $20 for females (subject to change without notice).
GO AHEAD – GO POOL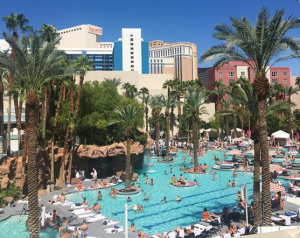 Location: Flamingo Las Vegas
Why we love it: It's never a dull moment with different themes each day.
Must-have drink: Millionaire Mimosa – one gallon fresh-squeezed orange juice, a full bottle of G.H. Mumms Champagne flipped upside down and placed into the bucket, garnished with orange slices. Serves group of five with over-sized neon straws.
There's a reason why thousands flock to Flamingo's 21-and-older GO Pool Dayclub every year. In addition to weekly pool parities, GO Pool keeps things hot with celebrity performances. Last summer, Mya, Sugar Ray, Tinashe and LIT dominated the stage.
Here are some events you can expect at GO Pool right now:
Throwback Thursday: Enjoy all your favorite old-school hits, as well as beer buckets and bottle specials from 9 a.m. – 1 p.m. If you really want to take it back, play classic games like Connect Four (this time, it's life-size) and cornhole. And what's a daytime party without beer pong?
GO Fridays: Dance to the sounds of 104.3 FM DJ Supa James. Enjoy Miller Lite buckets and bottle specials. Corn hole, life-size Jenga and beer pong all keep the party going.
#Daybeats Saturday: Enjoy beer bucket and bottle specials from 9 a.m. – 1 p.m., as well as a Booty Shakin' contest (turn up!). All the fun games like Connect Four, beer pong and cornhole are up for grabs all day. We say make new friends.
#Daybeats Sunday: Enjoy all the same fun from Saturday, sans the Booty Shakin' contest.
Stay up to date with this year's GO Pool summer lineup schedule.
Not 21 yet? No need to bust out the fake ID, kids. The Flamingo Beach Club shrieks fun in its own way This family-friend pool has water slides, fun for all ages. (Note: Beach Club does have weekly night events for the 21 and up crowd. More details coming soon.)
Hours: GO Pool, 9 a.m. – 6 p.m.; Beach Club, 9 a.m. – 5 p.m.
Cost: Go Pool – admission fees vary. Beach Club – free for all Flamingo hotel guests.
VENUS IF YOU WILL 
Where: Caesars Palace (Part of the Garden of the Gods Pool Oasis)
Why we love it: The adult-only pool is only steps away from the rest of the pools, so you're never missing a beat.
You don't have to take advantage of European-style bathing weekend to have a good time (but if you're all about even tan lines, then get it, girrrrl!). Venus European Pool Lounge has a chill, yet upbeat vibe. The 21-and-older pool club has multiple cabanas, day beds and even munchies straight from the grill.
Hours: Sunday – Thursday 10 a.m. – 6 p.m. (cabanas, 10 a.m. – 5 p.m.); Friday – Saturday, 10 a.m. – 7 p.m. (cabanas, 10 a.m. – 5 p.m.).
Cost: Free for Caesars Palace and Nobu Hotel guests 21 and older (subject to change).
MASSAGE TIME AT THE POOL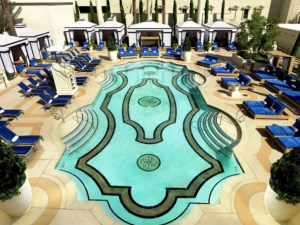 Where: Caesars Palace's Garden of the Gods Pool Oasis
Why we love it: How one pool can be so lively, while others are a lot more serene? That's why we heart this pool so much. You can choose your own experience, all steps away from each other. Plus, what beats drinking out of a real pineapple or coconut – or a poolside massage?
The secret to rest and relaxation: Poolside massages. You can have this at the Garden of the Gods Pool Oasis. The cabana-lined Jupiter pool is ideal for this since it's away from all the action and a lot quieter.
Garden of the Gods has a total of seven different pool areas, including the aforementioned Venus pool and Jupiter pool. Temple is family-friendly, Fortuna offers swim-up blackjack and Neptune is ideal for socializing. For all you golden gods and goddesses, Apollo pool is perfect for sun worshiping. If you want over-the-top luxury, the Bacchus pool provides VIP treatment. Raised 18 feet above the pool deck, it comes with cabana host and cocktail servers.
Hours: Now through May 3, 9 a.m. – 6 p.m.; May 4 – Sept. 30, 8 a.m. – 7 p.m.
Cost: Free for Caesars Palace and Nobu Hotel guests, as well as guests staying at The Cromwell; $20 for non-hotel guests, but entrance is not guaranteed and is subject to availability.
These are  just a few of the amazing pools around Las Vegas, every hotel has its own unique oasis at almost every turn, if there is a fee involved you can party/swim or relax by any other pool in vegas even as a non-hotel guest. You just try them all especially if you are travelling in the warmer months.
Source||http://blog.caesars.com/las-vegas